Supporting Cannabis workers as the industry grows.
It's only been a few years since recreational cannabis was legalized. In Alberta, cannabis production facilities and retail stores seemed to pop up overnight. Business is booming.
As this sector matures, many workers are realizing they may not be receiving the full benefits and protections as those in similar industries.
Teamsters 987 is actively working with Alberta cannabis workers to show how unionizing can create a fairer workplace.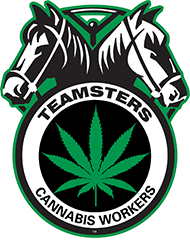 Key Issues Facing Cannabis Workers
Who Can Benefit From a Union?
Cannabis workers across North America have begun to unionize their workplaces. This includes those at production facilities as well as "budtenders" who work in retail dispensaries. Teamsters 987 can represent all non-management workers in your facility (full or part-time).

Cannabis Production Workers

Cannabis Store
Retail Staff
Talk with Teamsters
to explore your options!
Starting a Union: 5 Steps
To start a union, you need someone willing to take the initiative to get the process started and a desire to advocate for change. (For a more detailed overview, click here).

Research the benefits of unionizing
Starting a union is not something to take lightly. It's important to know what you're getting into and what a union can or can't do for you. This will be crucial as you try to convince coworkers to support you.

Talk with Teamsters 987
Teamsters 987 has been busy working with Alberta cannabis workers and guiding them through the unionization process. Let us put that knowledge and experience to work for you.

Set up an organizing committee
Starting a union is not something one person can – or should – take on alone. You will want to ensure that someone on your committee is representing the key roles within your workplace. For example, production workers, cleaning staff, equipment operators, warehouse and shipping staff.

Sign an Organizing Petition
This is a confidential document that employees need to sign to determine if there is enough support to hold an official vote to start a union. Your Teamsters Organizer will help.

Hold a Vote
At this point, all workers will be given an opportunity to vote in favour or against starting a union by secret ballot. To be successful, you simply require the support of 50% plus one.
Be Cautious When Exploring Options to Start a Union.
The owners and managers at your workplace may resist plans to start a union if they become aware that their employees are considering doing so. This is why your first step should be to contact Teamsters 987 so they can advise you on the best ways to minimize risks while they support you throughout the process.
Remember you have the right to start a Union. Your employer does not have the right to stop you from doing so or from seeking out information about doing so.
Alberta's Cannabis Industry by the Numbers
976
Licensed Cannabis
providers*
19
Alberta-based cannabis producers**
$548M
in sales (2022)
***
Alberta's cannabis workers deserve to be treated as fairly as those performing similar jobs in other sectors. Teamsters 987 gives workers a stronger voice in contract negotiations
Preston Quintin, Teamsters 987
FAQS
Are unions common in the cannabis industry?
As the industry grows in Canada, an increasing number of retail employees are seeking the protection of a union. This has been most noticeable in BC, Ontario, Quebec and Manitoba. Alberta is following suit. Production workers are also starting to realize that they too could be benefiting like their colleagues in the manufacturing sector.
What are the key labour issues facing cannabis workers?
It can vary from one workplace to the next. Common concerns involve fair work hours and scheduling, wages and benefits, workplace safety, and employee training and development.
If successful, what would I be required to pay in union fees?
When a collective agreement is in place, all employees will be required to pay dues. The amount is calculated by multiplying your hourly wage rate by 2.5 and adding $2.
So if your hourly rate of pay is $20/hour, your dues would be: $20×2.5=$50 $50+$2=$52/month for Union dues.
Remember: YOU DON'T PAY DUES UNTIL YOU AND YOUR COWORKERS VOTE TO ACCEPT A CONTRACT! There is no cost to you throughout the process of us negotiating your first collective agreement.
Will my boss know if I signed a petition to start a union?
No. They are not able to access the results of a petition. It is confidential. When an application for certification is submitted, the Alberta Labour Relations Board Officer receives a current list of all employees. It is up to the Board to confirm if you have enough votes to support the application to start a union – not your employer.
LEARN HOW STARTING A
UNION CAN TRANSFORM
YOUR WORKPLACE
Reach out to a Teamsters 987 Organizer.
It's 100% confidential.
RELATED BLOG ARTICLES